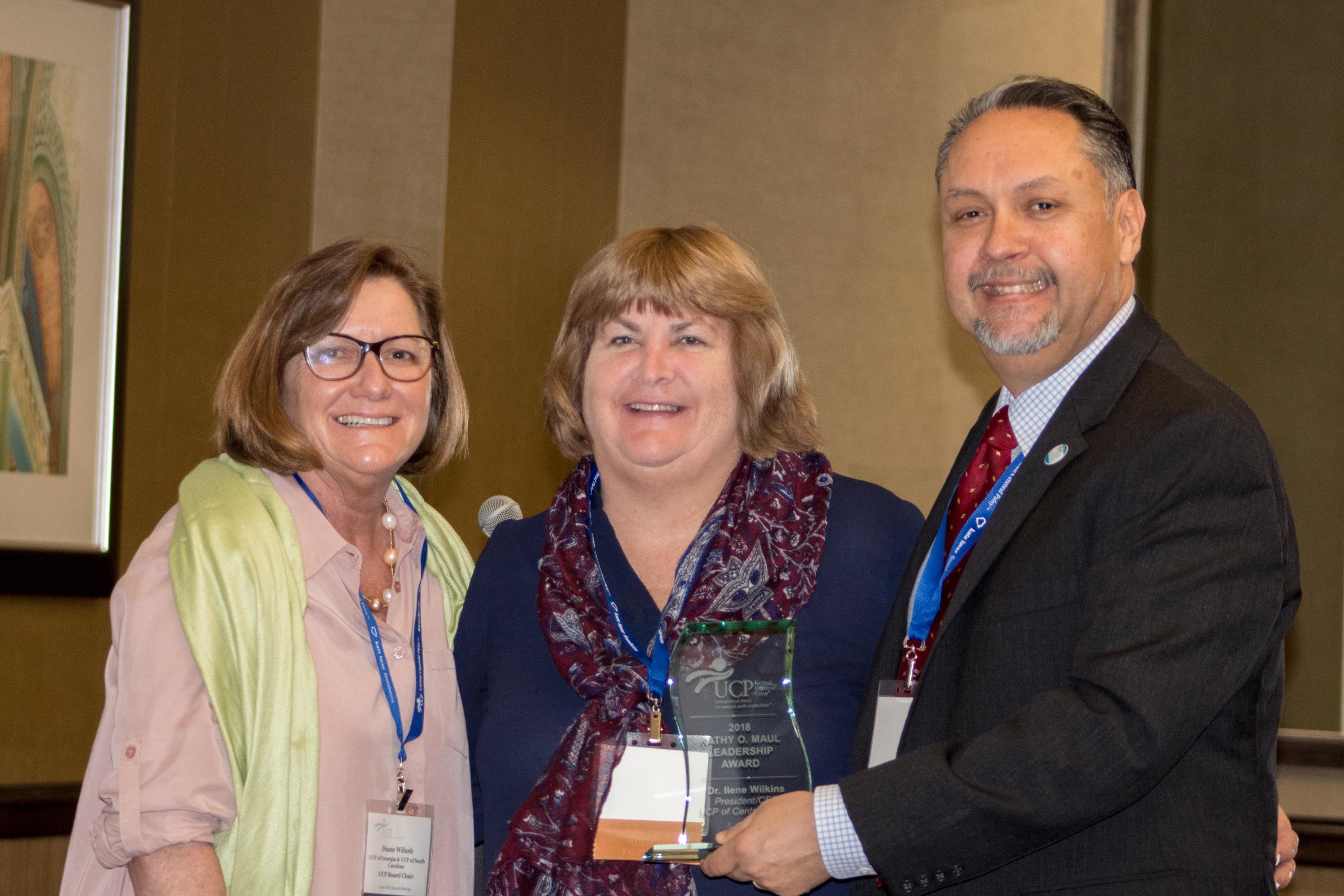 501(c) Agencies Trust joins in the congratulations of Trust board member, Dr. Ilene Wilkins – CEO of United Cerebral Palsy of Central Florida. Dr. Wilkins is this year's recipient of the Kathleen O. Maul Leadership Award presented by United Cerebral Palsy (UCP) National.
This year's award honors UCP CEO's that embody Kathy Maul's Legacy of leadership, vision, and commitment to UCP's mission.
Since 2002, Dr. Wilkins has been the Chief Executive Officer of United Cerebral Palsy of Central Florida in Orlando, a $16 million nonprofit agency making a difference in the lives of over 2,400 children and their families with and without disabilities by providing support, education and therapy services. From 1995 to 2002, she was Vice President of Operations for UCP of Central Florida.
Dr. Wilkins when receiving the award was described as not only visionary, and a tireless advocate, but she also leads from the heart exemplifying the inclusive, personal, and limitless qualities for which UCP of Central Florida stands!
Before joining UCP of Central Florida, Dr. Wilkins was President/Executive Director of the Massachusetts Association for Professional Foster Care (MAPFC) in North Grafton, MA, a statewide nonprofit agency, which provides legislative advocacy, support, training and respite services to foster and adoptive parents.
Dr. Wilkins earned her B.A. from New York University (1982), her MA of Public Administration from Suffolk University in Boston (1995), and her Ed.D in Exceptional Education from the University of Central Florida (2010).
She has authored and co-authored numerous publications and conference presentations, and in the past 15 years has been directly responsible for the acquisition of more than $2.7 million in grants to support educational and social support programs and facilities. Among her many awards are the Orlando Business Journal "Women Who Mean Business" honor (2012), Central Florida Women of the Year (2010), and the Central Florida Healthcare Administrative Hero (2009).
Her current professional affiliations include the Council on Exceptional Children, Florida Charter School Consortium, Avalon Park Rotary Club, Florida Interagency Coordinating Council for Infants and Toddlers, University of Central Florida Public Administration Advisory Council, and United Cerebral Palsy Association. From 1990 to 2006, she was affiliated with the National Foster Parent Association.