In the world of workforce issues there are a few things that are discussed annually. For example, every December you read and talk about about how to behave (or not) at holiday parties. And every spring you digest or regurgitate the obligatory information about what the NCAA Men's Basketball Championship – March Madness – does to office productivity. 
Do we really need to go over all of this again?
During March Madness will your staff be gambling in the office at rates of $5 per bracket entered?
Maybe.
Will the office's Internet bandwidth be compromised as people stream the #1 seed vs #16 seed match-ups.
Absolutely.
Will less get done on Thursday, March 17 and Friday, March 18? Will lunch breaks on those days leak over there usual 60-ish minutes?
I hope so.
Will Carole from accounting win this year's office pool because she picked only teams with birds as their mascots?
It's a virtual lock.
Yes. This year's annual college basketball playoff hoopla will cut into your organization's productivity.
And guess what? No one cares.
Every year the staffing firm OfficeTeam, drops a press release and cute infographic (below) about how productivity does slow in March because of basketball and most managers don't care.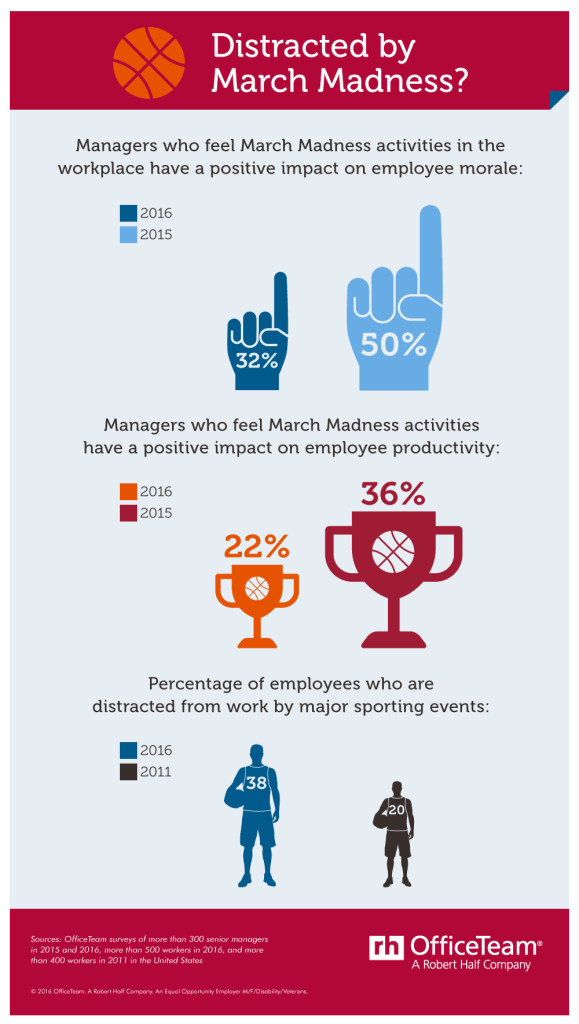 This year they are reporting that 59 percent of senior managers interviewed for their annual survey said festivities tied to the college basketball playoffs have no impact one way or the other on employee morale.
About one-third (32 percent) of managers in their survey see some advantages to letting staff celebrate their favorite teams, down sharply from 50 percent one year ago. Predictably, managers are less inclined to see productivity benefits.
In a separate survey, 38 percent of office workers polled said they are distracted at work by major sports events. This is up from 20 percent five years ago.
"Today's technology makes it easier for people to get game updates from just about anywhere, including the office, but March Madness doesn't have to be a workplace productivity killer," says Brandi Britton, a district president for OfficeTeam a unit of Robert Half International of Menlo Park.
"When sporting events are enjoyed in moderation, employees get a chance to bond and take occasional breaks, which helps them stay motivated in the long run," says Britton.
Yeah! Statistical vindication. March Madness is a distraction but a happy one if you don't over do it.
Enjoy March America. Make it an unproductive one.