Since candidate recruitment has moved to the Internet, recruiters face the same issues of visibility as do their sales and marketing counterparts. But unlike their counterparts, on the whole they don't seem to have moved into the Internet age.
The traditional job advertisement was developed for the newspaper. When was the last time you posted a job in a newspaper? If it has been a while then why is your job posting still designed for print?
Your posting needs to now get attention in a world full of cat videos, conspiracy theories and more cat videos.
Humor is always an option when trying to push through the noise of the Internet and boring job boards. Hopefully your organization's culture is flexible enough to allow for a bit of snark to be associated with its digital brand because it will help if done correctly.
Here are a few snarky recruitment examples seen in the past weeks.
180LA, a creative agency, is looking for a new creative director. The organization got innovative and entered the below short film into several film competitions at Cannes.
Job boards need traffic too. This Laazi.com ad is not a job posting but a request for job applications.
Creative agencies seem to be able to bend their job advertisements more towards the side of humor than any other type of organization. This 10X Marketing ad is a perfect example.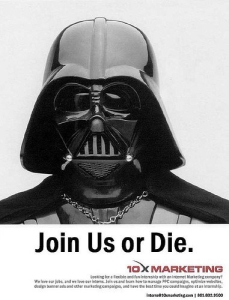 Even Microsoft with its big corporate image is able to find a bit of snark for a job advertisement. If they can do it, so can your organization.